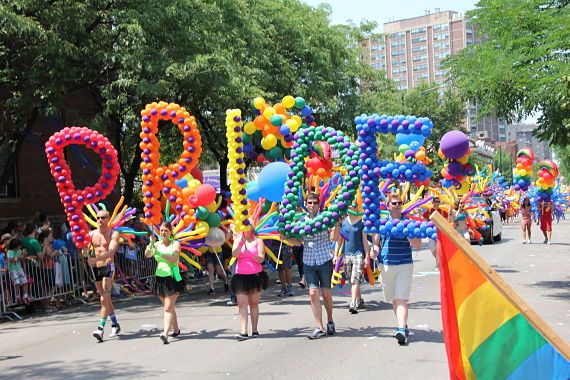 When I planned out my Safe Space topics, I knew that June was going to be about sexuality. Its Pride month, and it seemed appropriate to shout about. I thought this would be a post about being bisexual, or the difficulties in getting dates, but instead, I want to talk about how Pride month this year has been different.
For the past two years, i.e. as long as I've lived in London, I've volunteered at Pride. It has been a great way to meet new people. I enjoy being part of it, and have always had great fun afterwards in the depths of Soho.



I knew this year was going to be a little different, because one of my best friends joined the Navy, and he was my go-to party friend. I also missed an interview for the role I wanted at Pride, because I had to work. So I dithered and dithered about what else to volunteer for.
I know that America has tons of shootings all the time, but this just really shook me. I don't know whether it was the scale of trauma, or the fact it occurred in Pride month, in a gay club, where people were dancing away. It could have easily been me. I attended a vigil in Soho with my friend Charlie the day after, but nothing really seemed to scratch the surface.
Not to mention work has been extremely busy and what with all the Brexit drama, my Twitter timeline (i.e. my home) has been so full of despair. I convinced myself on Friday that going to Pride wasn't a good idea. I just wanted to retreat into the Sim world where there is no segregation.
And then Saturday morning, I got dressed, and just burst into tears. I don't know what happened. I can't even use the excuse of a soppy film. Maybe my outfit was that bad?! Anyway, I trekked into Central London with the view of doing some blogging, and obviously ended up on Twitter, and then I saw this.
So yes more tears. But this time of hope, and love, and glad that these men chose this day, this parade and moment to express their love. And my heart burst. And I realised more than ever do I need to be part of it. So I went out and cheered on the parade, and met up with friends, and partied in Soho along with what felt like a gazillion other people.
While my 2016 Pride wasn't what I thought it would be, it was a step forward in reaffirming my hope in the world, and a future where Love is Love and there is joy in society. Where people can express themselves freely and not live in fear. And even though I didn't really make things happen this year, just by being part of the crowd, waving that flag and cheering people on, I stood together with people. And above all else, that's what matters.